Welcome to enjoy
a delicious lunch
at Vesterbrunn
Traditional Swedish lunch
Four different dishes every day with salad, bread, butter and homemade cake with coffee.
All accompanied to a wonderful view of Lake Munksjön.
Of course, we only serve food with 100% Swedish meat ingredients!
See current weekly menu below, lunch is open between 11.00 and 14.00.
Seated guests we receive from 11.30, please book a table to come and eat.
Today's lunch 129 SEK
Pick-up 95 SEK
Closed for holliday until the 14:th of August
He is our head chef with responsibility for our lunch service here at Vesterbrunn.
A good old man (go gubbe) from Gothenburg with solid experience of cooking and especially of lunch.
Ran his own restaurant in Gothenburg but  love made him to stay in Jönköping, which we are happy about.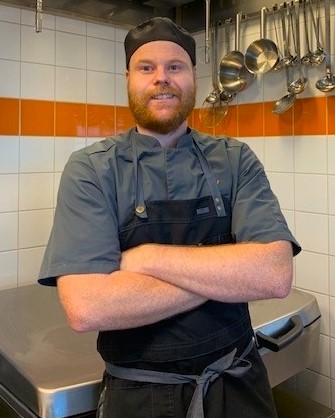 Also say hello to Ella and Anne!
Ella is the chef who bakes, makes sandwiches and all the good salad that we serve here,she´s alsos Patrick's right hand. From Vimmerby from the beginning , but even for her love made her a resident of Jönköping.
Anne is the Head Chef and also the other half in the ownership of Annes Husman and Vesterbrunn.
Over 20 years of experience in lunch, catering and cooking in general makes her the backbone of all our kitchens.